Professional Toilet Installation in Australia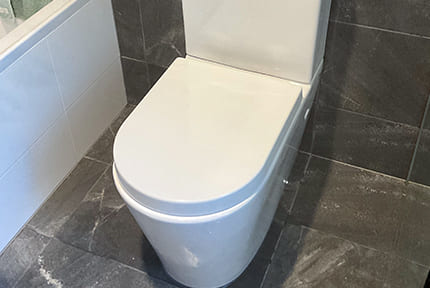 Is your existing toilet bowl giving you constant trouble, or are you planning to revamp your bathroom space? Look no further than 23 Hour Plumbing, Australia's premier choice for top-notch toilet solutions. Our expert team specialises in seamless toilet installations, repairs, and upgrades, catering to all your bathroom needs.
Whether you're looking to install a toilet suite for a modern touch or seeking toilet repairs for your current unit, we've got you covered. We excel in dealing with various types of toilets, including wall-faced toilets, ensuring a sleek and space-saving installation. Worried about the installation cost? Rest easy knowing that we offer competitive pricing without compromising on quality.
With 23 Hour Plumbing, your bathroom upgrade is just a call away, promising efficiency, professionalism, and satisfaction at every step.
Signs You Need a New Toilet
While there are some obvious glitches that indicate it's time to bid adieu to your old toilet, certain subtler signs might escape your notice. Keep an eye out for these cues to determine whether a replacement is due.
One sign to watch for is recurring leaks despite fixing the wax ring or closet bolts. If these repairs become a regular chore, it's a red flag. Similarly, if your wall-hung toilet isn't as stable as it once was or shows visible cracks, it's time to consider a new fixture.
Issues with the supply line and the toilet seat can also hint at a deteriorating toilet. Leaks in the supply line or a wobbly seat that can't be fixed might warrant a replacement. Moreover, an outdated toilet that lacks water-saving features like a dual flush system could be costing you more in water bills.
Inspect the bolt head and closet flange for rust or damage; if they're beyond repair, it's a clear sign for a new toilet. Lastly, if your toilet frequently clogs or requires multiple flushes, it might be straining your existing plumbing, indicating the need for an upgrade.
Don't ignore these signs—upgrading your toilet not only enhances functionality and aesthetics but also ensures a more efficient and trouble-free bathroom experience.
Toilet Replacement and Installation Process
At 23 Hour Plumbing, we take pride in delivering a seamless and hassle-free toilet replacement and installation process. Our expert team follows a meticulous step-by-step approach to ensure your new toilet is installed efficiently and functions perfectly:
1. Assessment and Preparation
Our skilled technicians begin by assessing your existing toilet and the bathroom's layout. This step helps us determine the most suitable replacement options and ensures proper compatibility with your plumbing setup.
2. Gather Necessary Tools
Equipped with essential tools such as an adjustable wrench, tubing cutter, and other specialized equipment, our team is ready to handle various types of toilets, including both one-piece and two-piece models.
3. Removal of Existing Toilet
We start by shutting off the water supply and draining the tank. Our technicians then remove the tank bolts and carefully detach the toilet from the floor flange, ensuring minimal disruption to your bathroom.
4. Installation of New Toilet
Our professionals meticulously follow manufacturer instructions to install your new toilet. We secure the wax seat onto the closet flange, ensuring a proper seal. For two-piece toilets, we assemble the tank and bowl before connecting them securely.
5. Water Supply and Testing
After installing the new toilet, we connect the water supply line, checking for leaks and ensuring proper water flow. Our team tests the flushing mechanism to guarantee optimal functionality.
6. Final Checks and Cleanup
We perform a thorough inspection to ensure every component is in place and functioning as intended. Any necessary adjustments are made for a flawless installation. Our team tidies up the work area, leaving your bathroom clean and organised.
By entrusting 23 Hour Plumbing with your toilet replacement, you not only save money through efficient installation but also gain access to our expertise in handling a wide range of toilet types. With our dedicated approach, you can confidently enjoy your new toilet's enhanced performance and convenience.
Why You Need A Plumber For Professional Toilet Installation
Opting for professional toilet installation offers numerous advantages over attempting a DIY approach, especially when dealing with the intricacies of modern fixtures like one-piece and two-piece toilets:
Expertise and Experience: Professional plumbers possess the necessary training and hands-on experience to handle various toilet types, ensuring correct installation and preventing potential issues.
Proper Sealing: Correctly installing components like compression nuts and compression rings is crucial to prevent leaks. Professionals have the expertise to ensure a proper seal, avoiding water damage.
Efficient Assembly: Assembling and aligning components of one-piece toilets or connecting tanks and bowls of two-piece toilets can be intricate. Professionals have the skills to do this seamlessly, reducing the risk of leaks and malfunctions.
Warranty Protection: Most toilets come with manufacturer warranties that can be voided if the installation is not performed by a certified professional. Hiring experts ensures your warranty remains valid.
Plumbing Knowledge: Professionals understand plumbing systems, ensure correct connections to water supply lines and waste pipes, and prevent future clogs and leaks.
Time and Convenience: Professional installation saves you time and effort. You won't have to gather tools, learn complex procedures, or troubleshoot issues.
Long-Term Satisfaction: A properly installed toilet functions optimally and has a longer lifespan, saving you money on repairs and replacements down the line.
Safety and Compliance: Professionals adhere to safety standards and building codes, ensuring your installation meets legal requirements.
Choosing professional toilet installation guarantees a hassle-free experience, increased peace of mind, and a toilet that operates flawlessly from day one.
Interest Free** Toilet Installation Costs
Whether you're facing a toilet installation emergency or have a scheduled appointment, there's no need to worry about the cost. At 23 Hour Plumbing, we're dedicated to alleviating your stress, which is why we offer a convenient array of interest free** payment options.
Simply select a plan from our partnered providers, Zip or Humm. Enjoy the flexibility of choosing from weekly, fortnightly, or monthly instalments based on your preferred plan. Some plans even allow for a $0 deposit, making the process of installing a toilet even smoother.
Our skilled plumbers will guide you through the straightforward application process, with approvals taking just a few minutes. Relax while our fully qualified plumber takes care of the job seamlessly.
Flexible Payment Methods for Your Convenience
If interest-free** payment plans aren't your preference, we also accept cash, cheque, EFTPOS, and credit card payments (Visa, Mastercard, and American Express).
Rest assured, we don't charge extra for work completed after hours, on weekends, or on public holidays. We're always ready to assist you. Count on transparent fixed prices for both installation and emergency repair services.
Give your bathroom the care it deserves and don't delay your toilet installation any longer. Contact us now or fill out our online form to schedule a visit from our expert team at 23 Hour Plumbing. With our presence in major Australian cities, local plumbers are always nearby to serve you.