Do You Know What a Tempering Valve Is?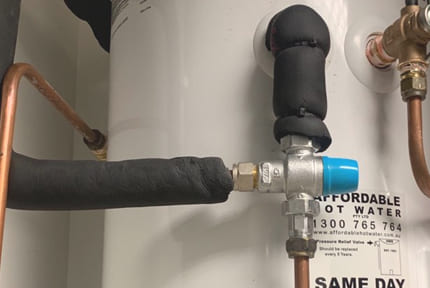 Tempering valves must be incorporated into new hot water systems as a mandatory measure to ensure that the water emanating from the taps maintains a safe temperature. Whenever there is a requirement for installing or replacing tempering valves, the services of 23 Hour Plumbing are indispensable.
Why You Need A Hot Water Tempering Valve
If the main question customers usually ask is, "What is a tempering valve?" then the secondary query almost invariably becomes, "Why is a tempering valve necessary for my hot water system?"
In essence, hot water storage systems must maintain the water temperature at 60°C. This guarantees the eradication of legionella and other detrimental bacteria, thwarting their proliferation through your plumbing. Nonetheless, the predicament is that the hot water flowing at 60°C has the potential to scald or cause burns upon extended exposure. Vulnerable groups, such as children and the elderly, are particularly at risk.
Hence, for the sake of safety, it is highly recommended to have a tempering valve installed on stored hot water systems, as mandated by the plumbing code of Australia across most Australian states.
Impact of a Tempering Valve on Your Hot Water System
Tempering valves regulate the temperature of the water emanating from your hot water tap, preventing it from surpassing 50°C. These valves are affixed to both the hot water storage system and cold water conduits, blending cold water with heated water before it emerges from the hot water tap. A temperature monitor expands and contracts to sustain the ideal equilibrium.
Given these precise stipulations, get in touch with 23 Hour Plumbing if issues arise with your hot water tempering valve or if you necessitate hot water services. Our technicians adeptly manage all concerns pertaining to tempering valves, spanning from repairs to installation, including tankless continuous flow models and hot water storage systems.
We offer upfront pricing and a free quote for your plumbing needs, encompassing hot water system replacements, and our services encompass solar and heat pump systems.
Do You Need a Tempering Valve on Continuous Flow?
The concise response is: No, it's not necessary to have a tempering valve inserted on a tankless continuous flow hot water unit. Tankless models are usually pre-set to 50°C since they lack a stored water tank, unlike electric systems.
Tempering valves are solely required when the water is heated to an unsuitable temperature for common household use.
Tempering Valve Installation
With Australia-wide temperature regulations, it's crucial that your new hot water system incorporates a tempering valve for safe water temperature control. Not all hot water storage systems come equipped with a tempering valve, but a fully licensed plumber will strongly advise its installation.
At 23 Hour Plumbing, we ensure the installation of tempering valves on all storage tank hot water units, while also offering replacements for damaged valves.
If your existing hot water heater lacks a tempering valve, we can seamlessly add a new one, ensuring compliance with the local plumbing code requirements. For any uncertainties, feel free to reach out to our friendly customer service team to schedule a hot water service appointment.
Thermostatic Mixing Valve vs Terminator Valve vs Pressure Limiting Valve
There are several significant valves associated with your hot water system, which can sometimes be a bit perplexing. Below is a concise explanation to help you differentiate between them.
Thermostatic Mixing Valve
An essential apparatus, the thermostatic mixing valve promptly responds to shifts in pressure and temperature. These valves are mandated by tempering valve regulations in various settings, including nursing homes, childcare centers, and schools. Their purpose is to maintain the water outlet temperature below 45°C, preventing scalding accidents, particularly among vulnerable individuals. The efficient control mechanism of thermostatic mixing valves, known as TMVs, plays a key role in ensuring a safe and comfortable environment in facilities where precise temperature control is paramount.
Terminator Valve
Also referred to as a Mildred valve, the terminator valve holds a pivotal role in safeguarding indoor hot water systems. It is designed to detect and react to leaks in the hot water heater by automatically halting the water supply. Its installation is both a matter of convenience and a requirement specified by the Australian Standard. The absence of a terminator valve might lead to insurance not covering damages caused by a leaking hot water heater. By adding an extra layer of protection, these valves help mitigate potential water-related damages and offer peace of mind to homeowners and property proprietors.
Pressure Limiting Valve
Another familiar component is the pressure limiting valve. The maximum inlet water pressure for hot water heaters is set at 500kPa. If your water pressure surpasses this limit, the installation of a pressure limiting valve becomes necessary.
Hot Water Tempering Valve Adjustment
Professional, licensed installation is essential for hot water tempering valves, and only a licensed plumber should handle any necessary adjustments.
At 23 Hour Plumbing, we guarantee precise temperature configuration and full compliance for your home.
In addition to installation and adjustment, we provide comprehensive hot water system replacement servicing to maintain optimal efficiency and safety of your unit.
Interest Free** Service on Tempering Valves
If you're encountering issues with water temperature and require a new hot water mixing valve, this is a matter that demands attention. It's a situation you can't overlook or dismiss. Inaccurate tank temperature settings can pose hazards. However, if this predicament arises during a financially challenging period, there's no need for concern.
For those eligible customers in need of a new hot water mixing valve, 23 Hour Plumbing provides convenient interest free** payment plans. You can select a plan from our partners, Zip or Humm. The payment options include weekly, fortnightly, or monthly instalments, depending on your chosen plan. Certain plans even accommodate a $0 deposit, eliminating any upfront expenses.
Adaptable Payment Choices for Your Convenience
Your skilled plumber will guide you through the straightforward application process; typically, approval takes just a few minutes. Following that, you can relax while your certified plumber adjusts your hot and cold water to the desired levels. If a payment plan isn't your preference, we also accept payments via cash, cheque, EFTPOS, and major credit cards (Visa, Mastercard, and American Express).
If you have enquiries regarding tempering valves or any of our additional services, feel free to contact 23 Hour Plumbing. Alternatively, complete our online form, and we'll promptly return your call.
Tempering Valve Service Areas
We provide our services throughout the major metropolitan regions, including Adelaide, Brisbane, Canberra, Geelong, Gold Coast, Melbourne, Perth, and Sydney.