Do You Need a Hydro Jet Cleaning Service?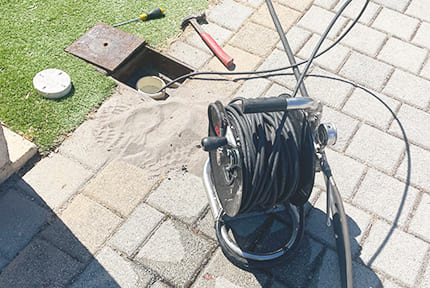 Persevering clogged drains frequently necessitates more than simple plungers or plumbing snakes. To effectively address any obstruction, hydro jet drain cleaning, which is both hydro jetting safe and capable of tackling sewer line blockages, stands out as a contemporary method capable of resolving the issue comprehensively. Employing CCTV drain inspection for a meticulous assessment, 23 Hour Plumbing possesses the necessary equipment and specialised knowledge to offer expert services in drain jetting, utilising hydro jets for efficient results.
We Offer 24/7 Hydro Jet Drain Cleaning
When immediate resolution of a blockage is necessary, dial the number for 23 Hour Plumbing. Our skilled plumbers possess cutting-edge hydro jet drain cleaning equipment, enabling them to effectively handle any obstacle.
Hydro jet systems are characterised by their exceptional water pressure and demand expertise from certified professionals for operation. Hence, if you encounter clogged drains, it's advisable to refrain from DIY efforts and instead contact 23 Hour Plumbing.
Whether it's a blocked toilet during the weekend or an overflowing stormwater drain in daylight hours, you can rely on our dependable same-day service.
Experiencing Blocked Drains? We're Available 24/7
Rest assured that our hydro jetting services are the ideal solution for your blocked drains and sewer lines. Our skilled team has successfully tackled persistent clogs caused by stubborn tree roots, significant debris, damaged pipes, and misplaced toys. Regardless of the blockage's origin, our qualified plumber from 23 Hour Plumbing, along with the hydro jet, will complete the task safely and efficiently.
We provide 24/7 service throughout the year, aiming to respond within an hour*, even on weekends and public holidays. Our transparent pricing structure means you won't encounter any additional after-hours fees. Feel free to contact us at any time, as we maintain consistent fixed rates.
So, when you encounter a stubbornly blocked drain at your residence, it's time to leverage the advantages of our hydro jet drain cleaner. Get in touch with us, and a local expert from 23 Hour Plumbing will promptly arrive at your doorstep.
What Is Hydro Jet Cleaning?
Hydro jet drain cleaning is an incredibly effective method to swiftly eliminate stubborn blocked drains. Utilising advanced hydro jetting technology, this approach offers unparalleled results in removing even the most stubborn clogs. If you're experiencing blocked drains, opting for hydro jetting services by a certified professional plumber can swiftly resolve the issue.
In the hydro jet cleaning process, a hydro jet drain cleaner employs a large metal cable, reaching almost 100 meters, to access the blocked drain. Once in position, the hydro jet drain is activated, unleashing a torrent of pressurised water at extremely high pressure. This high-pressure water stream effectively obliterates all blockages, including solid materials, grease, and tree roots that might have infiltrated the pipes.
The Benefits of Hydro Jetting
Hydro jetting, an extremely high-powered drain cleaning method, goes beyond simply clearing blocked drains. The hydro jet, which employs pressurised water at very high pressure, performs hydro jet cleaning effectively. This hydro jet drain cleaner eliminates grease, grime, fats, and other solid materials, leaving your drain healthy, like new.
When experiencing blocked drains, reach out to 23 Hour Plumbing, a certified professional in hydro jetting services. Our qualified plumbers, available 24/7, utilise the latest hydrojet technology to provide long-term solutions for clogged drains and pipe blockages.
No longer worry about recurring blocked drain issues or annual plumber callouts with 23 Hour Plumbing's efficient drain cleaning services. We arrive fully equipped with modern hydro jet equipment, ensuring an environmentally friendly approach to drain cleaning.
Interest Free** Hydro Jet Cleaning
High-pressure drain cleaners should only be utilised by skilled professionals. Given their capability to cut through trees, they pose a risk of injury and should exclusively be managed by certified contractors.
However, concerns about the expense of hiring an experienced plumber are unnecessary. 23 Hour Plumbing provides a variety of convenient interest free** payment options for eligible customers.
You can opt for a plan from our affiliated providers, Zip or Humm. The choice of a payment schedule—weekly, fortnightly, or monthly—depends on your selected plan. Certain plans even require no initial deposit, allowing for a zero upfront payment.
Your qualified plumber can guide you through a straightforward application process, and approval typically takes only a few minutes. Following approval, you can leave the resolution of your drain issues to your capable plumber. Alternatively, if payment plans aren't of interest, we also accept cash, cheques, EFTPOS, and credit card payments (including Visa, Mastercard, and American Express).
For more details about hydro jet drain cleaning, don't hesitate to contact 23 Hour Plumbing at your convenience. Additionally, you can complete our online form, and we'll promptly respond to your enquiry.