Your Hot Water System Replacement Specialists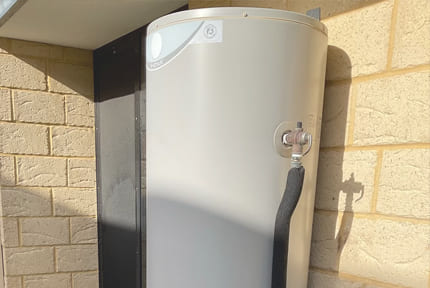 When your current hot water system has reached its lifespan's conclusion and it's time for an upgrade, it's the moment to consider 23 Hour Plumbing. Our proficiency in replacing hot water systems ensures prompt restoration of dependable hot water in your residence.
How Long Do Hot Water Systems Last?
Similar to other essential household devices, hot water systems offer several years of reliable performance. However, like all indispensable household appliances, these years eventually conclude, prompting the consideration of a replacement.
The timeframe before this replacement phase varies based on the system type. For gas hot water systems, whether storage or continuous flow, the typical duration is around 10 to 15 years.
Electric hot water systems present varying timelines. Storage systems share a comparable lifespan with gas counterparts, spanning 10 to 15 years. In contrast, electric instant water heaters generally endure for 15 to 20 years.
Heat pump hot water systems, growing in popularity, maintain an average lifespan akin to gas water heaters, lasting 10 to 15 years.
Solar hot water systems showcase the most remarkable longevity among all types, persisting for an impressive 20 to 30 years.
By adhering to regular maintenance and appropriate care practices, the lifespan of each of these hot water systems can be extended. This approach ensures that the concern for a new hot water system arises later rather than sooner.
Local Hot Water System Replacement
At some point, you will inevitably require a replacement for your current hot water system. This need might be a premeditated decision or a sudden urgent situation. When the time arrives, you'll likely seek the guidance and expertise of professionals to select the most suitable hot water system for your residence. This is where 23 Hour Plumbing steps in.
Our response time is rapid – within an hour* of your call. Our local experts in hot water systems possess the requisite knowledge and hands-on experience to address a diverse range of these setups. Whether it's electric, solar, or gas-driven systems, including variations like heat pumps and solar water heaters, we are prepared to upgrade your existing configuration today. By opting for an energy-efficient alternative, you can effectively lower your energy expenditures while ensuring a consistent hot water supply.
24 Hour, 7 Days A Week Hot Water Services
You will never experience extended waiting times – our team of local plumbers covers various metropolitan suburbs nationwide. Upon reaching out to 23 Hour Plumbing, we promptly reply and strive to reach your residence within one hour* of your enquiry. This applies at any hour of any day, with no extra charges for after-hours tasks.
When we arrive to conduct a hot water system replacement, you'll be presented with an upfront fixed-price quote before we commence the work. To witness our professional service first hand, schedule a visit from one of our hot water specialists today.
Hot Water Systems Installation Experts
When it comes to replacing hot water heaters, the assistance of qualified professional plumbers is essential. The tasks involved, such as handling the weighty electric storage tank or performing certified installations for gas continuous flow systems, should not be attempted as a DIY project. In fact, it's against the law to install a hot water system unless you possess the appropriate qualifications.
At times, this task involves more than a mere replacement. Not all malfunctioning water heaters must be substituted with the exact same make, model, or brand. You might be interested in transitioning from an electric hot water system to a solar one or upgrading to a unit with a larger capacity.
Several factors should be taken into account when setting up a new hot water system:
The dimensions of your residence
The quantity of bathrooms and appliances
The number of occupants
The type of fuel to be used, such as natural gas, solar, electric, or a heat pump
Your financial considerations
The installation location
Additionally, you'll need to decide between a continuous flow system or storage tanks. An expert from 23 Hour Plumbing can offer advice on these aspects and assist you in selecting the most efficient hot water system to meet your requirements.
We can supply models from a range of reputable brands or install a new hot water heater that you have purchased.
Replacing Your Gas, Solar or Electric Hot Water System
If you require a replacement for your current hot water setup, whether it's an electric, solar, natural gas, or heat pump system, 23 Hour Plumbing can promptly deliver the required change. Our team comprises specialised experts skilled in diverse hot water systems, guaranteeing an impeccable alignment of the task with the specific expertise. This includes expertise in electric instantaneous water heaters.
Each installation task presents its distinct challenges, even when it involves a simple like-for-like hot water system replacement.
For instance, the replacement of a gas hot water system might entail the addition of new gas copper piping or the installation of an electrical power point for ignition purposes.
Substituting a solar hot water system also encompasses work related to the solar panels and the storage tank. In cases of roof-mounted units, extra structural support becomes a requirement.
Opting to upgrade from an electric storage tank to a gas instantaneous water heater will also involve supplementary tasks.
Given the multitude of potential scenarios, it is imperative to enlist the services of a licensed plumber or gas fitter. 23 Hour Plumbing possesses both qualifications, ensuring a seamless and efficient hot water system replacement process. Contact us today to ensure an uninterrupted hot water supply.
Interest Free** Hot Water Replacement
At 23 Hour Plumbing, we prioritise transparency and understanding for our customers. This is why we furnish a clear upfront fixed price for your replacement of a hot water system, taking into account the specific circumstances.
Should the necessity arise to substitute your hot water system at an inconvenient financial juncture, rest assured. 23 Hour Plumbing presents an array of interest free** payment options suitable for eligible clients.
Flexible and Convenient Payment Alternatives at Your Disposal
Merely select a plan offered by our partners – Zip or Humm. You possess the flexibility to opt for weekly, fortnightly, or monthly payments, contingent on your chosen plan. Certain schemes even accommodate a $0 initial fee, eradicating any upfront expenses.
Your plumber will guide you through the simple application procedure, and approvals are usually swiftly granted within minutes. You can then recline while a fully certified plumber concludes your hot water system replacement.
Should a payment arrangement not pique your interest, we also accept cash, cheque, EFTPOS, and credit card payments (Visa, Mastercard, and American Express).
Do not delay reaching out to 23 Hour Plumbing today. Alternatively, you can complete our online form, and we will promptly respond.
Hot Water Repair Service Areas
We cater to all major urban regions, including Adelaide, Brisbane, Canberra, Geelong, Gold Coast, Melbourne, Perth, and Sydney.