Do You Need Emergency Hot Water Repair?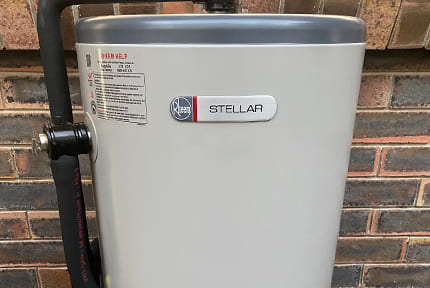 If you require urgent home hot water repair services, 23 Hour Plumbing is your solution. We offer round-the-clock repair and upkeep solutions for various hot water systems such as gas, electric, heat pump, and solar systems.
Experts in Hot Water System Repairs
Choose 23 Hour Plumbing as your top pick for professional hot water system repair services. Trust us for same-day emergency hot water service, ensuring rapid relief. Our experts also provide lasting solutions for every job.
Be it an older electric hot water heater or a new gas hot water system, we've got you covered. Our skilled hot water specialists guarantee intact warranties and peace of mind. We collaborate with all major hot water brands to swiftly restore your hot water tap.
Hence, whether your pilot light is out or water is gushing from an electric storage tank, our hot water system technician can resolve it instantly.
Specialist Hot Water Services: Same Day Service Within One Hour*
With swift and dependable attendance within an hour* of your call and no added after-hours charges, you can consistently rely on top-notch plumbing services from 23 Hour Plumbing. Irrespective of the time of day or night, we offer reliable customer service and skilled repairs for your hot water systems when most needed.
We will proficiently resolve any urgent plumbing matter and swiftly restore your schedule with same day repairs for your hot water system.
For fixing issues in all varieties of hot water systems and trustworthy maintenance of your hot water system, get in touch with 23 Hour Plumbing today.
Common Hot Water System Faults
23 Hour Plumbing possesses skilled and experienced plumbers capable of diagnosing and repairing various issues concerning hot water systems. Our service professionals and gas technicians are well-versed in the latest techniques for identifying hot water malfunctions and are dedicated to locating and addressing these issues.
From electric hot water units to gas water heaters, heat pumps, and solar hot water setups, each system type presents distinct potential problems that impact your hot water supply, necessitating the expertise of a specialist in hot water systems.
Electric Hot Water Systems
Common problems that may arise with an electric hot water system include:
Defective heating element
Tripped circuit breaker
Malfunctioning thermostat
Broken dip tube
For electric hot water heaters with storage tanks, sediment accumulation can lead to problems like insufficient or absent hot water, discoloured or unpleasant-smelling water, and noisy operation. Tank leaks due to corrosion or a faulty relief valve are also possible.
Gas Water Heaters
Gas hot water systems are not exempt from potential issues, which might encompass:
Faulty pilot light, ignition electrode, or thermocouple
Gas supply complications like a closed or defective gas valve
Malfunctioning flow sensor or thermostat
Blocked or restricted gas line
Similar to electric systems, these gas water heater problems can result in inadequate or no hot water, discoloured or foul-smelling water, and potential leaks. Continuous flow systems might additionally experience fluctuating water temperature, error codes, and system shutdowns.
Solar Hot Water Systems
In the case of solar hot water system, they exhibit unique problems, including:
Malfunctioning solar collectors
Failure of the circulation pump
Defective temperature sensor
Freezing or overheating due to insufficient antifreeze protection or faulty temperature control
It's noteworthy that solar-powered systems often feature a gas or electric-powered booster to compensate for times of low solar energy levels.
Heat Pumps
While renowned for their energy efficiency, heat pump-based hot water systems can encounter faults such as:
Malfunctioning compressor
Failure in electrical connections
Issues with refrigerant levels
Leaks in plumbing connections
Even if you're uncertain about the problem with your hot water system, 23 Hour Plumbing will identify the issue. Our team will be at your location within the hour* to provide immediate same-day service.
24/7 Emergency Hot Water Systems Services
If you encounter hot water problems at any time, efficient solutions are available 24/7 through 23 Hour Plumbing. Our skilled plumbers specialise in emergency hot water repairs, as well as general maintenance tasks.
Each of our hot water specialists is local and ready to respond to your call. Customers across Australia can rely on our professional hot water repair services any day of the week, at any hour.
Whether it's a weekday, public holiday, or weekend, our commitment remains consistent. We take pride in offering fixed-price quotes without extra after-hours fees, ensuring our plumbers arrive punctually, maintain competitive rates, and deliver lasting solutions.
Should your hot water issue necessitate a new hot water system installation, our plumbers can manage the task. We have access to top-tier brand names and premier hot water systems available on the market.
23 Hour Plumbing delivers exceptional service throughout the week for hot water maintenance, repairs, replacements, and installations. We work with the leading hot water brands and provide unbiased advice. Our comprehensive range of services includes solar hot water systems, gas hot water systems, electric water systems, heat pumps, and more.
Interest Free** Hot Water Repairs
We acknowledge that unexpected hot water system emergencies often occur at inconvenient times, especially when it comes to household finances. This is why 23 Hour Plumbing provides a variety of interest free** payment solutions.
You can simply select a plan from our partnered providers – Zip or Humm. You will have the flexibility to opt for weekly, bi-weekly, or monthly instalments, depending on your chosen plan. Certain plans even allow for a $0 upfront deposit, eliminating any initial payment.
Your qualified plumber can guide you through the straightforward application process, and approvals are typically granted within a few minutes. Subsequently, you can unwind while your skilled plumber fixes your hot water heater.
Choose One of Our Convenient Payment Alternatives
If you're not inclined towards a payment plan, we also welcome cash, cheque, EFTPOS, and credit card payments (including Visa, Mastercard, and American Express).
For further information, feel free to call 23 Hour Plumbing at your convenience. Alternatively, you can complete our online form, and we will promptly reach out to you.
Hot Water Repair Service Areas
We provide our services in all major urban regions, including Adelaide, Brisbane, Canberra, Geelong, Gold Coast, Melbourne, Perth, and Sydney.