Are You in Need of Heat Pump Repairs?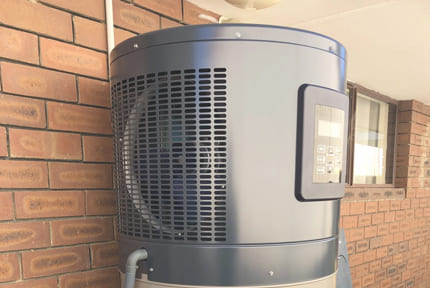 At 23 Hour Plumbing, we offer a comprehensive range of services for your heat pump hot water needs, encompassing repairs, installations, and routine maintenance. Our services are accessible around the clock, 365 days a year, and we do not charge extra for services rendered outside regular hours.
We're Experts in Heat Pump Repairs
Highly efficient heat pump hot water systems, recognised for their exceptional energy efficiency, serve as a commendable alternative to already energy-efficient solar hot water heating systems.
They function effectively even in cold climates, operating proficiently in temperatures as low as -5°C. This attributes the heat pump water heater as the optimal hot water solution for Australia's variable climate conditions. This choice obviates the necessity of solar panels, indispensable for solar systems, while still harnessing renewable energy to cater to hot water needs.
Heat pump systems facilitate energy conservation, curtailing carbon emissions with minimal exertion and zero compromises on indulgent hot showers.
24/7 Expertise in Heat Pump Hot Water Systems
At 23 Hour Plumbing, we are fully prepared to assist you when your split system air conditioner, which is capable of generating heat directly, experiences a decline in performance or develops leaks. Count on us for prompt split system air conditioner repairs every day of the year.
No supplementary charges apply for after-hours visits dedicated to the installation, maintenance, or repair of your split system air conditioner, especially on public holidays or weekends. We aim to reach your premises within an hour* of your call, even in challenging ambient temperature conditions. When your demand for hot water arises from your heat pump hot water system, we ensure you won't be left waiting.
Our expedited and enduring repairs guarantee long-lasting solutions that eliminate the need for recurrent interventions, ensuring your split system air conditioner operates optimally for years. Clients can rest assured, knowing they possess a robust hot water system that promises years of reliable service and efficient performance.
How Do Heat Pumps Work?
Heat pump water heaters, also known as hot water heat pumps, utilise innovative technology to harness hot water energy by extracting heat from the surrounding air. Differing from conventional electric water heaters, heat pump water heaters function by transferring ambient heat into the water within a storage tank.
The operation of a hot water heat pump system initiates with the evaporator, which takes in warmth from the surrounding air temperature. The evaporator absorbs heat from the air, which is subsequently conveyed to a refrigerant, capable of transitioning between gaseous and liquid states.
The heated refrigerant is then compressed by a separate component known as the heat pump compressor. This compression process elevates the refrigerant's temperature. It proceeds through a heat exchanger, facilitating the transference of heat from the warm refrigerant to the chilled water within the storage tank.
After heat transfer, the now-cooled refrigerant circles back to the evaporator, and the refrigeration cycle recommences. This loop continues until the water inside the storage tank attains the desired temperature, securing a consistent supply of hot water. This exceptional capacity to draw heat from the surrounding air renders heat pump hot water systems remarkably energy efficient and ecologically sound.
The Benefits of Heat Pump Water Heaters
Heat pump water heaters, often referred to as hot water heat pumps, are gaining popularity in Australia due to their innovative design and high efficiency. They provide numerous benefits for homeowners, encompassing:
Energy-efficient: These heat pump hot water systems utilise thermal energy from the surrounding air, making them more efficient than conventional electric or gas water heaters. They can generate three to four times more heat energy compared to the electricity they consume.
Cost-effective: By using less electricity or gas, these systems substantially curtail energy expenses, leading to considerable long-term savings. This advantage is particularly relevant given the elevated energy costs in Australia.
Environmentally friendly: Hot water heat pumps align with Australia's eco-friendly initiatives by minimising carbon emissions.
Adaptable: They perform optimally in diverse Australian climates, spanning from temperate regions to tropical ones.
Extended lifespan: With proper upkeep, heat pump hot water systems can outlast standard water heaters, reducing the frequency of replacements.
In summation, heat pump hot water systems present an intelligent choice for Australian homeowners aiming to heat water efficiently, economically, and in an environmentally-conscious manner. Despite the initial upfront costs, the enduring advantages of hot water heat pumps transform them into a valuable investment in our evolving energy landscape.
Types of Heat Pump Water Heaters
Featuring a diverse selection of captivating heat pump hot water systems available in the market, you'll never be short of choices. Leading manufacturers of hot water heat pumps include:
Rheem
Chromagen
Solahart
Stiebel Eltron
Rinnai
And more
The adaptability of each brand ensures the availability of a heat pump water heater that aligns perfectly with your requirements.
For instance, Chromagen models offer storage tanks of 170 litres (L) and 280L, while the Rheem HDi-310 boasts a capacity of 310L. Stiebel Eltron and Rinnai's Enviroflo heat pump models also exceed 300L, making them an ideal match for a busy household.
This highly efficient heat pump hot water unit is an excellent replacement for outdated conventional electric water heaters. Furthermore, it can be combined with solar panels. While a direct purchase of a solar heat pump isn't possible, if you possess existing panels, hot water heat pumps can function largely off-grid due to solar power.
The energy-efficient performance of these units translates to up to 75% savings on hot water energy consumption (in comparison to electric systems) and approximately 60% reduction in greenhouse gas emissions. It stands as a dependable source of hot water for residences of all sizes and climates.
Interest Free** Heat Pump Hot Water
23 Hour Plumbing endeavours to streamline the payment procedure for your convenience, aiming to offer uncomplicated and efficient payment options. This is why we present an array of interest free** payment plans to eligible customers.
Upon receipt of a predetermined fixed-price estimate upfront, the payment plan offers a straightforward method to promptly accomplish essential tasks.
Select from a diverse variety of convenient payment alternatives available:
Feel free to pick a suitable plan with either of our affiliated providers – Zip or Humm. You have the flexibility to opt for weekly, fortnightly, or monthly instalments, contingent upon your chosen arrangement. Certain plans even allow for a $0 deposit, eliminating any initial expenses.
Our skilled plumber can guide you through the user-friendly application procedure, with approval typically taking only a few minutes. In the event that a payment plan doesn't align with your preferences, we also accept various payment methods, including cash, cheque, EFTPOS, and credit card payments (Visa, Mastercard, and American Express).
For all your requirements related to heat pump hot water systems, encompassing repairs, installations, and general maintenance, reach out to 23 Hour Plumbing.
Heat Pump Hot Water Service Areas
We provide our services across the major metropolitan regions, including Adelaide, Brisbane, Canberra, Geelong, Gold Coast, Melbourne, Perth, and Sydney.