Your Local Has Hot Water System Experts in Australia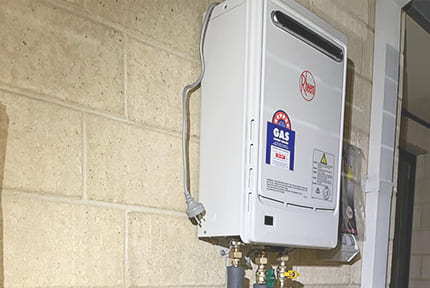 Gas hot water systems require specialised installation, maintenance, and repair expertise. Unlike electric hot water systems, which rely on electrical heating elements, natural gas-powered systems utilise a gas water heater to heat water efficiently. At 23 Hour Plumbing, we are your trusted local experts in Australia regarding gas water heaters.
Our team of experienced professionals is well-versed in all aspects of gas hot water systems. Whether you need installation services for a new gas water heater or repairs for an existing one, we have the skills and knowledge to ensure your system operates flawlessly. We understand the unique components and mechanisms of gas water heaters, enabling us to diagnose issues accurately and provide effective solutions.
When it comes to gas hot water systems, safety is paramount. Our technicians are trained to handle gas systems with the utmost care, adhering to industry standards and regulations. We prioritise your comfort and convenience, offering timely services to keep your hot water flowing consistently.
Choose 23 Hour Plumbing for all your gas hot water system needs in Australia. Our commitment to quality workmanship and customer satisfaction sets us apart as the go-to experts for gas water heater installations, maintenance, and repairs. Enjoy reliable hot water with the expertise of our dedicated team.
Contact us today to schedule a service or to learn more about our comprehensive gas hot water system solutions.
Gas Hot Water System Benefits
There are many more benefits to choosing a gas hot water system for your residential or commercial needs than other options like electric hot water systems or a heat pump water heater.
Energy Efficiency: Gas water heaters are known for their energy efficiency, making them a cost-effective choice in the long run. They heat water quickly and use less energy than traditional electric storage tank systems.
Instantaneous Hot Water: With a continuous flow system, you'll enjoy fast hot water whenever needed. This eliminates the need for waiting and conserves water in the process.
Quick Recovery Time: Gas water heaters have faster recovery times than electric ones, ensuring a steady hot water supply even during high-demand periods.
Lower Operating Costs: Thanks to their energy efficiency, gas water heaters generally have lower operating costs over time than electric systems, helping you save on utility bills.
Reliable Performance: Gas hot water systems are more reliable due to their robust design and dependable heating mechanisms. This reliability translates to consistent hot water availability.
Reduced Environmental Impact: Gas water heaters are a greener option than some alternatives, especially when natural gas is used, as it produces fewer greenhouse gas emissions.
Variety of Sizes: Gas water heaters come in various sizes, allowing you to choose the one that best fits your needs and space constraints.
Suitable for Large Demands: Gas systems are ideal for homes or businesses with higher hot water demands due to their ability to heat water quickly and efficiently.
When you opt for a gas hot water system, you're choosing to prioritise energy efficiency, convenience, and reliability. Whether you're considering a storage tank system or a continuous flow setup, the benefits of a gas water heater make it an excellent investment for your hot water needs.
We Also Service
Aside from gas hot water systems, our comprehensive services extend to various other types of hot water systems. We're your trusted experts in handling a wide range of options to cater to your specific needs:
Electric Hot Water Systems – Our skilled technicians are well-versed in installing, maintaining, and repairing electric hot water systems. Whether you have a storage tank system or an energy-efficient electric hot water setup, we have you covered.
Solar Hot Water Systems – We specialise in solar hot water systems if you want to harness renewable energy for your hot water needs. Our expertise covers installation and maintenance, ensuring your solar setup operates optimally.
Energy Efficiency Solutions – Regardless of your hot water system type, we offer energy efficiency assessments and improvements. Our team can recommend strategies to enhance the efficiency of your system, reducing energy consumption and costs.
Gas Burner Services – Beyond hot water systems, we provide specialised gas burner services. Our technicians are skilled in inspecting, cleaning, and maintaining gas burners for optimal performance and safety.
Installation, Repair, and Maintenance
Our expert team at 23 Hour Plumbing excels in offering a comprehensive range of services for hot water systems, including installation, repair, and maintenance. When it comes to keeping your hot water flowing smoothly, we have the expertise you can rely on:
Installation
Our installation services encompass a variety of hot water systems, ensuring a seamless setup tailored to your specific requirements. From gas hot water systems to electric and solar options, we carefully assess your needs and recommend the best-fit solution. Our skilled technicians handle all aspects of installation, including plumbing connections, electrical work, and system calibration. With precision and attention to detail, we guarantee a reliable and efficient installation that meets industry standards.
Repair
When your hot water system encounters issues, our repair services are designed to swiftly address problems and restore functionality. Our technicians are equipped with the knowledge and tools to diagnose issues accurately, whether it's a malfunctioning gas burner, a faulty heating element in an electric system, or solar panel troubles. We proactively approach repairs, ensuring the root cause is resolved to prevent recurring problems.
Maintenance
Regular maintenance is key to prolonging the lifespan and efficiency of your hot water system. Our maintenance services involve thorough inspections, cleaning, and fine-tuning of components. We check for leaks, combustion efficiency, and safety measures for gas systems. Electric systems receive meticulous assessments of heating elements and thermostat functionality. With solar systems, we ensure panels are clean and well-positioned for maximum energy absorption. Our maintenance ensures optimal performance, minimises energy wastage, and helps prevent potential breakdowns.
Interest-Free** Gas Fitting Solutions
Are you concerned about the expenses associated with gas plumbing services? Put your worries aside. At 23 Hour Plumbing, we maintain consistent rates day in and day out and extend a variety of interest-free** payment options for eligible clients. Whether you're dealing with an urgent repair or routine maintenance, our local experts are poised to assist. Reach out to us today without hesitation.
Flexible Payment Plans and Choices
Here at 23 Hour Plumbing, our philosophy centres around making gas fittings accessible to all. To cater to diverse financial situations, we present adaptable payment plans, including interest-free** terms for those who qualify. This empowers you to handle service costs through convenient instalments, alleviating the financial burden of unforeseen repairs or installations. No matter your budget, our commitment to delivering high-quality service remains unwavering.
Schedule Your Gas Fitting Project With 23 Hour Plumbing Now
It's evident that for top-tier gas fitting services, 23 Hour Plumbing stands as a dependable preference. With our round-the-clock availability, extensive service array, licensed professionals, and versatile payment choices, our goal is to offer exceptional service that leaves our clients content. Always keep in mind your safety and comfort are our utmost priorities. So, when you need adept gas fitters at your residence, remember to contact 23 Hour Plumbing!