We'll Fire Up Your Barbecue for All Seasons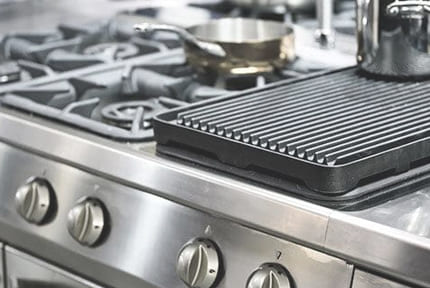 Nothing screams "Aussie" quite like a fantastic summer BBQ, and when it comes to gas BBQ installations, 23 Hour Plumbing stands out as the specialist. Whether you rely on your barbecue to define backyard living or to host outdoor gatherings, we're at your service for every requirement in gas BBQ installation. Keep that summer vibe alive throughout the entire year.
Professional Gas BBQ Installation
23 Hour Plumbing offers services provided by qualified gas fitters with extensive experience in gas fitting. Whether you require a new gas BBQ installed, conversion from LPG to natural gas, or relocation of an existing gas barbecue, our skilled team is equipped to handle any gas fitting professionals challenge.
When you choose 23 Hour Plumbing for your gas bbq installation needs, you can trust that a licensed gas fitter will promptly arrive at your location within an hour* of your call.
Our licensed gas fitters will promptly appear at your residence with a fully stocked van containing all the necessary tools and parts to promptly address your lousy bbq installation requirements. We are accessible around the clock, 365 days a year, including weekends, public holidays, and after hours, to effectively resolve any emergency gas situation.
Even during holidays such as Australia Day or Christmas Day, we can address issues like gas leaks or faulty gas appliances without additional after-hours charges.
Contact 23 Hour Plumbing now to benefit from our expert gas installation service. Whether you require immediate assistance with a new gas bbq installation or need gas fitting professionals for your outdoor kitchen, our experienced gas fitters are ready to provide efficient solutions.
Natural Gas BBQ Connections
Sure, gas barbecues may not be designed for direct gas mains connection, which can lead to a severe health hazard. However, there's no need for concern, as our licensed gas fitters specialise in gas BBQ installation services. They can readily convert your existing gas barbecue from LPG to natural or electric sources.
Rest assured that if you've acquired the appropriate natural gas conversion kit, we can assist you with the gas bbq installation process. Alternatively, we can take care of sourcing all the necessary materials ourselves.
By enlisting the expertise of licensed gas fitters, you can be confident that the entire process will be fully certified. In cases where establishing a new gas connection is necessary, our team is well-equipped for the task. Even if an extension of gas piping is required, our experienced gas installation professionals can handle it seamlessly. This means you'll never again have the hassle of refilling gas bottles.
At 23 Hour Plumbing, we're equipped to manage any gas bbq installation job, all while prioritising the safety of your home. Subsequently, we'll commission your barbecue and provide a certificate of compliance. This documentation serves insurance and warranty purposes, affirming the safe and successful conversion and installation of your BBQ.
Gas Fitting and Maintenance
We excel in the successful installation of new gas BBQs and offer ongoing maintenance, including gas leak detection and essential repairs, as part of our expert gas installation service.
The utmost priority is preventing emergency gas situations, particularly gas leaks, caused by improper BBQ installation. That's why opting for a qualified and licensed gas fitter is crucial. 23 Hour Plumbing exclusively employs licensed gas fitters fully qualified to ensure your safety.
Furthermore, our technicians regularly undergo training to stay updated on the latest gas-fitting practices. They are always well-acquainted with the latest gas BBQ models, eliminating any unexpected issues during the gas BBQ installation process.
Simultaneously, potential risks like damaged pipes, faulty gas appliances, or temperamental barbecues will pose no concerns. You can trust 23 Hour Plumbing for thorough fault finding and resolution.
Interest Free** BBQ Installation
As part of our gas bbq installation services, we take pride in offering various interest-free** payment plans for gas line maintenance, gas piping repairs, and qualified gas fitters for all your gas appliance needs.
Once you receive a fixed-price quote in advance, our straightforward payment plan provides an efficient method to complete vital tasks promptly.
Selecting a payment plan with either Zip or Humm, our approved providers, allows you to choose between weekly, fortnightly, or monthly instalments, aligning with your chosen scheme. Specific plans even accommodate a $0 deposit, eliminating upfront costs.
Your licensed gas fitter, an expert in gas fitting, will guide you through the uncomplicated application process; typically, approval takes just minutes. Subsequently, you can leisurely plan your upcoming outdoor entertaining event, showcasing your newly installed gas bbq while relying on the expertise of 23 Hour Plumbing to complete the task.
Should a payment plan not be of interest, we also accept payment through cash, cheque, EFTPOS, and credit cards (Visa, Mastercard, or American Express).
For further information, call 23 Hour Plumbing today or fill out our online form for a prompt response.