Round-the-Clock Plumbing Emergency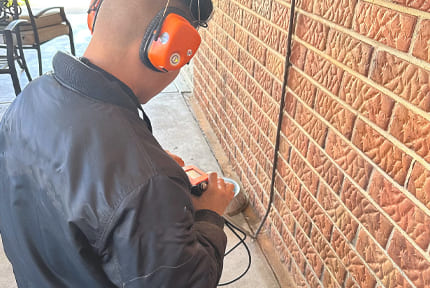 Our emergency plumber is your dedicated 24-hour partner for all plumbing emergencies. We swiftly handle everything from burst pipes to blocked toilets, hot water system hiccups, and gas leaks. Count on us round-the-clock to provide immediate solutions, ensuring your safety and peace of mind.
Our skilled professionals are equipped to tackle any situation, no matter the time of day. With years of experience, we prioritise rapid response and effective resolution, preventing further damage to your property.
Trust our reliable service to be there when you need it the most, ensuring your plumbing concerns are addressed promptly and efficiently.
Same Rates For The Same Work, Day and Night
The best thing about working with our 24-hour emergency plumbers is the consistency you can rely on. Whether it's a burst pipe or a gas leak, we offer the same rates for the same work, day and night. Our dedicated team of skilled professionals, including experienced gas fitters, is always ready to handle all your plumbing needs promptly and effectively.
No need to worry about inflated prices during emergencies – our commitment to fair pricing remains unwavering.
We understand the situation's urgency and ensure you receive top-notch service without any surprises on your bill. With our reliable expertise, you can trust us to swiftly address any plumbing issue, ensuring your safety and peace of mind.
Count on us to provide consistent, high-quality solutions whenever you require them, 24/7.
Common Plumbing Emergencies We Service
Many potential emergency plumbing issues can disrupt your daily life. Our expert team is here to provide quick and effective solutions to ensure your comfort and safety.
Blocked Toilet and Drains – Blocked toilets and drains can lead to messy and unhygienic situations. Our professionals specialise in resolving these issues promptly. We'll use advanced drain cleaning techniques to restore proper flow and prevent further inconvenience.
Pipe Repairs – Leaking or burst pipes can cause significant damage to your property. Our skilled technicians are equipped to handle pipe repairs swiftly, minimising water damage and restoring the integrity of your plumbing system.
Gas Line and Gas Appliance Issues – Gas leaks and appliance problems require immediate attention due to safety concerns. Our experts are trained to handle gas-related emergencies, including gas line repairs, replacements, and addressing gas appliance issues.
Air Conditioning Leaks – Air conditioning units can sometimes leak water, potentially causing water damage and affecting system efficiency. Our team can diagnose and fix AC leaks, ensuring comfort and preventing further complications.
Emergency Plumbing Repairs – Whether it's a burst pipe, an overflowing toilet, or a sudden water heater malfunction, our emergency plumbing services cover many urgent issues. We provide rapid response and effective solutions to restore normalcy to your home.
Our 24-Hour Emergency Plumbing Services Cover:
Hot water systems
Gas line repairs and replacements
General plumbing issues and repairs
Burst pipes
Blocked drains and toilets
Sewer line backups
Leaking taps and fixtures
Water heater failures
Sump pump problems
Frozen or burst pipes due to cold weather
Overflowing or backed-up sinks
Water pressure issues
Clogged sewer lines
Plumbing leaks and drips
With years of experience, we understand the stress that plumbing emergencies can bring. That's why our team is available around the clock to address these concerns professionally and professionally. No matter the size or complexity of the problem, you can trust us to deliver reliable solutions that prioritise your safety and satisfaction.
Same Day Service
When plumbing issues strike, you need swift solutions. Our same-day service ensures a licensed plumber arrives within 1 hour* of your call. We specialise in emergency trade services, addressing many urgent concerns. From drain blockages to gas leaks, we have licensed plumbers ready to provide immediate assistance.
Why Choose Us?
Rapid Response: Our priority is your safety and comfort. We can swiftly address your plumbing emergency, even during a power outage.
Expertise: Our licensed plumbers bring years of experience to the table. We're equipped to handle any issue, from minor repairs to complex installations.
Gas Leak Concerns: Smell gas? Don't hesitate. Our professionals are trained to handle gas-related emergencies, ensuring your home's safety.
Comprehensive Solutions: Whether it's a burst pipe, blocked drain, or any other plumbing problem, we offer complete solutions to minimise disruption.
Reliability: Our team is dedicated to providing top-notch service you can rely on. Your satisfaction is our priority.
Trust our same-day service for quick and effective solutions when you require urgent plumbing assistance. Contact us anytime, and rest assured that a licensed plumber will be at your doorstep promptly to resolve your plumbing concerns.
Expertise and Advanced Solutions for Your Plumbing Needs
At 23 Hour Plumbing, we deliver expertise and cutting-edge technology to resolve your plumbing issues quickly and efficiently. Our highly skilled technicians are equipped to tackle various challenges, from minor repairs to complex problems, ensuring a swift and effective resolution every time.
When it comes to stubborn drain blockages, whether caused by invasive tree roots or cracked pipes, our Plumber Near Me technicians have the experience to address them head-on. We use state-of-the-art CCTV camera drain inspection equipment and powerful hydro jet drain cleaners to eliminate obstacles in your drains, restoring their optimal functionality.
Our commitment doesn't end with removing blockages. Through proficient and long-term pipe relining techniques, we ensure that your drains remain in top condition, offering a like-new performance.
Flexible and Interest-Free** Solutions for Emergency Plumbing
When plumbing emergencies strike, they don't come with a warning and certainly don't align with your budget. At 23 Hour Plumbing, we understand this challenge, so we offer a range of interest-free** payment plans to eligible customers, ensuring that urgent plumbing needs are addressed without causing financial stress.
We collaborate with trusted providers such as Zip and Humm to provide you with flexible options. You can select a plan that suits you, whether weekly, fortnightly, or monthly instalments, tailored to your preferences. Some plans even allow for a $0 deposit, eliminating upfront costs.
The application process is straightforward and takes just a few minutes, with approval typically granted swiftly. This means you can focus on your emergency while our Plumber Near Me professional handles the situation.
Convenient Payment Methods
If interest-free** plans differ from what you're looking for, we also accept various payment methods, including cash, cheque, EFTPOS, and major credit cards (Visa, Mastercard, and American Express).
For any plumbing emergency, feel free to call 23 Hour Plumbing anytime. Alternatively, you can fill out our online form, and we'll promptly contact you. We're committed to providing hassle-free solutions, ensuring your peace of mind during unexpected plumbing issues.
Note: Interest-free** payment plans are subject to eligibility and terms.