Do You Need Help with Your Electric Hot Water System?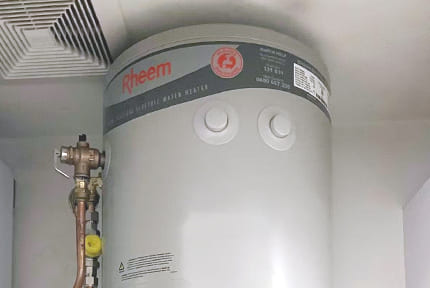 Allow our skilled plumbing professionals to repair or replace your electric hot water system. With expertise and understanding, 23 Hour Plumbing is well-equipped to address many premier brands and tackle even the most challenging issues. Our services are available around the clock, 365 days a year.
Electric Hot Water System Repairs
When faced with issues in your electric hot water system or needing a replacement unit, rely on 23 Hour Plumbing. Our certified technicians operate 24/7 across major Australian cities, ensuring swift assistance.
Our skilled plumbers are well-versed in managing diverse hot water problems, responding within an hour* of your call.
23 Hour Plumbing specialises in:
Electric storage tanks
Electric instantaneous water heaters
Electric-boosted solar hot water
Heat pump hot water system
Our technicians possess expertise in all facets of hot water systems, covering solar, heat pumps, and electric technologies.
We collaborate with top brands like Rinnai, Dux, and Rheem, leveraging our solid affiliations for efficient water heater repairs and access to crucial parts.
With our same-day service, you avoid prolonged periods without hot water, enjoying instant repairs and enduring solutions for peace of mind.
Contact 23 Hour Plumbing today for comprehensive answers to your electric hot water enquiries.
Storage Tank Hot Water Systems
Storage tanks also stand out as the most expensive to operate among the range of conventional electric hot water systems. Although traditional electric hot water systems are more energy-efficient than their counterparts from even a decade ago, the expenses tied to continuously heating water can be substantial.
Nevertheless, there are situations where no alternatives exist, and in such cases, that's perfectly acceptable. 23 Hour Plumbing is at your service to aid you in comparing the efficiency and expenses associated with storage tank systems, enabling you to relish reduced operational costs.
With their significant energy consumption for day-long water heating, there is a notable advantage – a substantial hot water supply. Coupled with a spacious range of 250 to 400 litres, this ensures an uninterrupted flow of piping hot water for a bustling household.
Maintenance ranks among the pivotal responsibilities for those with an electric storage tank. Our assistance is readily accessible at all times, offering an annual servicing that comprehensively addresses all internal components, including solar hot water systems, gas hot water systems, traditional solar water heaters, gas storage systems, and heat pumps.
At 23 Hour Plumbing, we oversee the performance of your thermocouple or tempering valve, replace sacrificial anodes as they rust, and execute tank drainage when needed. This process eliminates any accumulated sediment build-up while minimising greenhouse gas emissions and optimising the efficiency of hot and gas water heaters.
Instantaneous Electric Hot Water
Instantaneous electric hot water systems, also known as electric continuous flow systems, precisely perform the indicated function. They rapidly heat water, providing dependable hot water on demand while minimising energy wastage related to heating a voluminous tank.
Upon turning the tap, the water undergoes rapid electrical heating before emerging from the hot water outlet.
Electric instantaneous water heaters use natural gas for fuel, employing electric ignition. However, alternatives like entirely electric models are accessible. Their efficiency outpaces that of storage tanks, as they consume energy only when required.
For situations with space constraints, installing an electric instant water heater indoors is possible in contrast to gas-based hot water systems; no flue or ventilation is needed, negating outdoor installation. Our services encompass top electric continuous flow system brands such as Rinnai and Stiebel Eltron.
At 23 Hour Plumbing, we're adept at addressing your requirements concerning electric hot water systems. Whether you intend to set up a new instant system, restore your existing unit, or gather further information, kindly contact us.
Electric Water Heater Installation
Installing electric hot water systems requires precision and accuracy, making it a specialised task. Trust us; you would want to avoid dealing with off-balance tanks or water leaks affecting your running costs.
This is where 23 Hour Plumbing comes in. Our licensed technicians are electric hot water system installation experts, adhering to Australian standards.
Ensuring that wires and pipework stay clear is crucial for electricity and plumbing.
Our extensive experience with various hot water outlets positions us to offer top-notch service. Clients of 23 Hour Plumbing enjoy customised solutions and efficient replacements.
Interest Free** Electric Hot Water Systems
The primary concern is the cost when considering a fresh electric hot water system. At 23 Hour Plumbing, we strive to ensure the entire procedure remains as hassle-free as possible.
To cater to this, we present a variety of convenient interest-free** payment options. There's no need to delay acquiring your novel electric hot water system.
You simply select a strategy from our associated providers – Zip or Humm. The flexibility lies in choosing between weekly, fortnightly, or monthly payments, depending on your chosen scheme. Specific plans even allow for a $0 deposit, eliminating upfront charges.
Your plumbing professional can guide you through the straightforward application process; approvals usually take minutes. Subsequently, you can unwind while our fully certified plumber completes the task.
For those uninterested in a payment plan, we also accept cash, cheque, EFTPOS, and credit card payments (Visa, Mastercard, and American Express).
For further insights into electric hot water systems, contact 23 Hour Plumbing anytime. Alternatively, you can complete our online form, and we'll promptly respond.
Electric Hot Water System Service Areas
We provide services across all major metropolitan areas, including Adelaide, Brisbane, Canberra, Geelong, Gold Coast, Melbourne, Perth, and Sydney.