Dish Out Old Dishwasher and Let Our Pros Do the Installation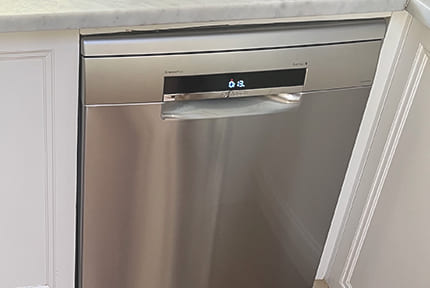 Planning to upgrade your kitchen with a new dishwasher? Look at least 23 Hour Plumbing for a hassle-free experience. Our expert team is here to make the transition seamless, from removing your old dishwasher to installing the new appliance efficiently and professionally.
Say goodbye to the stress of DIY installations and uncertain dishwasher installation costs. With 23 Hour Plumbing, you can trust our experienced technicians to handle every step of the process. Choosing a new dishwasher can be overwhelming, considering various models and prices. Let us take the burden off your shoulders.
Our installation experts ensure your new dishwasher is set up correctly, including connecting it to the existing power point. We prioritise safety and precision, giving you peace of mind that your new appliance will function flawlessly from day one.
Skip the frustration and let our pros do what they do best. Contact 23 Hour Plumbing today for a seamless transition to your new dishwasher. Enjoy a modern upgrade to your kitchen while leaving the installation worries to us.
Types of Dishwashers We Can Install
Explore the diverse range of dishwasher options that 23 Hour Plumbing can adeptly install to match your needs:
Freestanding Dishwashers: A freestanding dishwasher is an excellent choice for flexibility in placement. It stands alone and can easily be relocated if needed. Our team can seamlessly integrate it into your kitchen without needing a specific dishwasher cabinet.
Built-in Dishwasher: If you're looking for a dishwasher that seamlessly blends with your existing cabinetry, a built-in dishwasher is the way to go. Our professionals ensure a flawless integration that complements your kitchen's aesthetic.
Semi-Integrated Dishwasher: The semi-integrated dishwasher offers a balance between design and practicality. While the control panel is visible, the rest of the appliance can be concealed behind a cabinet panel, maintaining a harmonious kitchen appearance.
Fully-Integrated Dishwasher: Opt for a fully-integrated dishwasher for a sleek and minimalist look. It seamlessly disappears behind a cabinet panel, ensuring your kitchen's visual appeal remains uncluttered.
Drawer Dishwasher: Consider a drawer dishwasher if space optimisation is a priority. It allows you to wash dishes in separate drawers, providing convenience and efficiency for smaller kitchens.
Compact or Benchtop Dishwasher: A compact or benchtop dishwasher can be a game-changer when kitchen space is at a premium. Our experts can skillfully install these space-efficient options, allowing you to enjoy the convenience of a dishwasher even in limited areas.
At 23 Hour Plumbing, we understand the importance of a good dishwasher in your daily life. Whether you need a traditional freestanding dishwasher or seek the elegance of integrated options, we have the expertise to ensure your dishes are impeccably cleaned while perfectly aligning with your kitchen's design.
Why You Need A Licensed Plumber For Dishwasher Installation
When you're installing a brand new dishwasher in your kitchen, you'll need the expertise of a licensed plumbing professional. In addition to being a legal requirement in most situations, you'll also benefit in a variety of additional ways that can save you time, stress, and potential complications.
Here's why opting for a pro like 23 Hour Plumbing is the smart choice:
Expertise and Experience
Our professionals are trained and experienced in installing dishwashers of various types and brands. They understand the nuances of different models and can navigate any challenges during installation.
Warranty Protection
When you hire a professional, you often receive warranty protection on the installation and appliance. This provides you with peace of mind, knowing that any issues that arise will be covered.
Smooth Replacement of Existing Dishwasher
If you're replacing an existing dishwasher, our experts can efficiently remove and dispose of the old unit, ensuring a seamless transition to the new appliance.
Accurate Upfront Costs
While attempting a DIY installation might seem cost-effective initially, hidden expenses can add up quickly. With a professional service, you'll receive a clear and accurate upfront dishwasher installation cost, helping you budget effectively.
Proper Connection to Kitchen Utilities
Our team ensures that your new dishwasher fits perfectly within your kitchen layout. This includes connecting it to the kitchen sink and providing the electrical connection is safe and up to code.
Time and Convenience
DIY installations can be time-consuming and often lead to frustration. Opting for a professional installation allows you to focus on your routine while our experts efficiently handle the intricate installation process.
Reduced Risk of Damage
Mishandling during installation can lead to damage to your new dishwasher or your kitchen. Our professionals have the skills to install the appliance safely, minimising the risk of accidents.
Compliance with Regulations
Dishwasher installations often need to adhere to local regulations and building codes. Our professionals are well-versed in these regulations, ensuring the installation is compliant and safe.
To sum up, while DIY installations seem tempting, the benefits of choosing a professional for dishwasher installation are numerous. From warranty protection to accurate costs and expert installation, 23 Hour Plumbing guarantees a smooth and hassle-free experience, ensuring your new dishwasher is set up to work seamlessly within your kit.
Our Dishwasher Installation Process
Here's how our dishwasher installation process works at 23 Hour Plumbing, ensuring a seamless and efficient experience:
Initial Assessment: Our licensed plumbing professionals begin by assessing your kitchen's layout and the existing plumbing connections. This helps us determine the most suitable location for your new dishwasher.
Planning for Plumbing: We'll arrange for extension hoses or any necessary modifications to accommodate the new appliance's water supply and drainage. Our experts ensure that the installation aligns with your kitchen renovation plans.
Synchronisation with Cabinet Maker: For built-in or integrated dishwashers, we coordinate with your cabinet maker to ensure the dishwasher fits seamlessly into your cabinetry design. This step guarantees that the aesthetic aspect of your kitchen remains intact.
Removal of Existing Dishwasher: If you're replacing an old dishwasher, our team efficiently disconnects and removes the existing unit, ensuring a clean workspace for the new installation.
Precise Installation: Our professionals meticulously install the new dishwasher, connecting it to the water supply, drainage point, and power source. This step ensures the appliance works properly and adheres to safety standards.
Testing and Quality Check: Before considering the job complete, we conduct thorough testing to ensure that the dishwasher functions perfectly. This includes running test cycles to confirm that water supply, drainage, and electrical connections are all in order.
Final Adjustments: Our experts make any necessary adjustments to ensure the dishwasher is level and properly aligned. This attention to detail guarantees optimal performance and minimises the risk of issues down the line.
Clean-Up: We take pride in leaving your space as clean as we found it. Our team tidies up the work area, disposing of any packaging materials or debris from the installation process.
Demonstration and Explanation: Once the installation is complete, we provide you with a demonstration of how your new dishwasher operates. We're also here to answer any questions about its functions and maintenance.
Completion in a Few Hours: Our efficient process typically takes only two to three hours, minimising disruption to your routine and allowing you to enjoy your new appliance sooner.
At 23 Hour Plumbing, our step-by-step approach ensures that your dishwasher installation is carried out with precision and care. From coordinating with other professionals to testing and explaining, we take pride in delivering a top-notch service that provides an adequately installed dishwasher that seamlessly fits into your kitchen's design.
Flexible Payment Solutions for Dishwasher Services at 23 Hour Plumbing
Worry no more if you've invested in a new appliance and are concerned about the associated dishwasher installation cost. This also applies if you're still searching for a suitable dishwasher and want to explore options through 23 Hour Plumbing.
We offer convenient interest-free** payment plans tailored for eligible customers to provide you with financial peace of mind. This empowers you to manage your finances while enhancing your kitchen with a valuable appliance.
Select a suitable plan from our partnered providers, Zip or Humm. Enjoy the flexibility of choosing from weekly, fortnightly, or monthly instalments, depending on your preferred plan. Some plans even feature a $0 deposit requirement, eliminating upfront costs.
A Wide Array of Payment Choices
Our plumbing experts will guide you through the straightforward application process, with approval typically taking just a few minutes. If a payment plan isn't your preference, we happily accept various payment methods, including cash, cheque, EFTPOS, and major credit cards (Visa, Master, and American Express).
When the time comes for a licensed professional to install your dishwasher expertly, reach out to 23 Hour Plumbing, you can call us or simply fill out our online form, and we'll promptly assist you.