23 Hour Plumbing is Your Cistern Plumbing Expert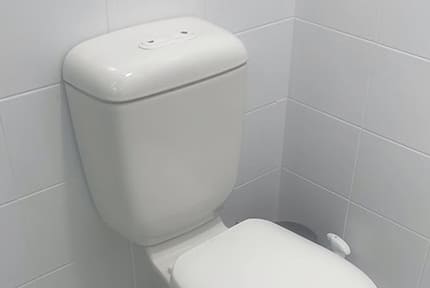 Regarding the intricate world of toilet plumbing, 23 Hour Plumbing is your dedicated cistern expert. The toilet cistern, often called the tank, is a crucial component of your bathroom plumbing system. The reservoir holds the water necessary for flushing the toilet bowl.
From conventional toilets to modern setups, like concealed cisterns hidden behind walls or furniture, our expertise spans various toilet configurations. We specialise in ensuring the optimal functionality of your entire toilet suite, from the water supply to the modern toilet pan.
Our team understands the significance of a properly functioning cistern. A faulty cistern can lead to inefficient flushing, water wastage, or leaks that could damage your bathroom and increase water bills. Whether you have an old cistern needing restoration or a state-of-the-art concealed cistern requiring maintenance, we've got you covered.
Our licensed plumber possesses in-depth knowledge of cistern mechanisms, enabling us to diagnose issues accurately and provide effective solutions. We're equipped to handle repairs, replacements, and installations, ensuring your toilet cistern operates flawlessly.
Don't let cistern problems disrupt your daily routine or incur unnecessary expenses. Trust 23 Hour Plumbing to be your go-to expert for all things cistern-related. Our commitment to reliable service and efficient solutions guarantees that your bathroom plumbing remains in top condition, giving you peace of mind and a hassle-free experience.
Repairs of Leaking Cistern
When confronted with leaking toilet cisterns, 23 Hour Plumbing offers durable solutions to eliminate persistent breakdowns. Bid farewell to those disruptive late-night hisses and welcome a fully operational toilet.
While many toilet suite repairs merely involve replacing a single part, our approach aims for lasting effectiveness. A seemingly minor issue might mask a more significant problem. Here's a brief overview of key components that often face breakdown:
Flapper: Ensures proper water flow during flushing.
Water Valve: Regulates water intake for the cistern.
Float Valve: Controls water levels within the cistern.
Rubber Seals or Flush Pipe Seal: Prevents leaks between components.
Drainage System: Ensures efficient removal of waste.
Toilet Bowl: The main fixture of the toilet.
Pipework: Vital for water supply and drainage.
Our expert technicians address a range of cistern-related repairs, including fixing the outlet valve, supply line, and existing system. We've covered your needs, from resolving issues with the flush button and dual flush mechanisms to swiftly repairing bottom inlet problems.
Expect quick and efficient service from 23 Hour Plumbing. Our skilled team can completely repair your cistern, ensuring your toilet functions flawlessly. Bid goodbye to worries about leaks or disruptions. With only a few minutes of our expert attention, you can enjoy a bathroom that works seamlessly, restoring convenience to your daily routine.
When Do You Need a Toilet Cistern Replacement?
Knowing when to opt for a replacement cistern can prevent inconvenience and recurrent issues. Consider these signs that indicate a replacement might be necessary:
Frequent Leaks: If your cistern consistently leaks, even after repairs, it might be more cost-effective to replace the cistern completely.
Age: A cistern reaching its service life limit might face more frequent breakdowns. Older models lack efficiency compared to newer options.
Ineffective Repairs: If your cistern problems persist despite multiple repair attempts, it could signal that a replacement is a more viable solution.
Cracks or Damage: Visible cracks, chips, or damage to the cistern body can compromise its integrity and functionality, warranting a replacement.
Constant Running: If the cistern continually runs after flushing and adjustments don't fix it, a replacement might be necessary to restore proper functioning.
Obsolete Technology: Outdated cisterns might need more water-saving features than modern units. Upgrading can reduce water consumption.
Push Button Malfunction: If the push button mechanism becomes faulty and cannot be repaired, it could affect flushing efficiency.
Water Efficiency: Opt for a replacement if you want to switch to a dual flush cistern for improved water conservation.
Persistent Odours: Unresolved odours around the cistern area might indicate internal issues that a replacement could address.
Cost Consideration: Sometimes, the cumulative costs of repairs outweigh the benefits, making a replacement a more practical choice.
Remember, a toilet cistern replacement ensures your toilet works efficiently, minimises water wastage, and eliminates ongoing maintenance headaches.
If you're experiencing any of these signs, consulting a plumbing professional like 23 Hour Plumbing can help determine if a replacement is the right course of action for your specific situation.
Interest-Free** Cistern Solutions
Facing an unexpected cistern issue and concerned about repair costs? At 23 Hour Plumbing, we've got you covered. We provide a convenient array of interest-free** payment plans to alleviate financial stress during cistern repairs.
Our options include partnering with providers like Zip or Humm, allowing you to choose a plan that suits your schedule. Choose between weekly, fortnightly, or monthly instalments, with some plans even offering a $0 deposit requirement, eliminating upfront expenses.
Navigating the application process is simple; approval usually takes just a few minutes. Once approved, your skilled plumber can swiftly tackle your cistern problem, restating your worries.
An Extensive Range of Payment Alternatives
We also accept various payment methods for those who prefer alternatives to payment plans. You can pay using cash, cheque, EFTPOS, or major credit cards such as Visa, Mastercard, and American Express.
Take your time resolving your cistern plumbing issues. If you have questions about payment plans or wish to schedule a licensed plumber, our friendly customer service team at 23 Hour Plumbing is ready to assist. Your peace of mind and efficient cistern solutions are our top priorities.